A Team Committed to Your Dog's Well-Being.
Everyone says they have the best team, but we mean it. The Dogma team is a group of compassionate dog lovers who uphold the Dogma Difference in all that they do. This means they are focused on continual learning and improvement, understand that dogs deserve best, and do all that they can to provide a positive experience that improves each dog's behaviour while they are with us.
We are a great company because of our people and we are committed to our team's well-being and personal and professional growth. Dogma is a certified living wage employer and we provide an extensive benefits program that includes a full education package. This creates a career for dog trainers that is not common in our industry and upholds our commitment of our team having the knowledge and experience to do what's best for your dog(s). We were recognized for our investment in our team when Dogma won the Empowering Employee Leader award from BeLocal in 2019.
Management & Support Team
Megan Stanley, CPDT-KSA, CBCC-KA, FFCP (Trainer)
Founder & President
Megan has been a strong advocate for animals since a young age, and that passion, along with her first dog, led her to a career in dog training. Guinniss, came to Megan as a dog that was terrified of the world and highly reactive. Through her work with him, she recognized a need for qualifed individuals to help dogs like Guinniss overcome their concerns. She also recognized that the proper approach was needed for young puppies to prevent them from developing. In an unregulated industry, Megan set out to create a business that set the standards for care and training of dogs and help develop the dog trainers that would continue to improve the lives of dogs and the people that love them.
Opening Dogma in 2006, Megan went from being an independant contractor working privately with clients, teaching classes out of multiple vet clinics, and developing behaviour programs for the Cochrane Humane Society and Animal Rescue Foundation. She opened the Chinook location in 2008 and launched Dogma Academy in 2009. The second facility was opened in Killarney in 2012.
Since then, Megan has become an active volunteer through local rescue organizations. Wanting to do more for her industry, Megan served on the Board for the Assocation of Professional Dog Trainers for 5 years. She served as Chair in 2018 and was the first Canadian in this role. Megan currently serves on the City of Calgary Licensing and Community Standards Appeal Board and the Canadian Association of Professional Dog Trainers. She will become Chair of this organization in 2023.
Regularly featured in various publications, podcasts, and more, Megan provides education to dog owners and trainers through her business, online resources, and through speaking engagements. She believes life is too short to not do what we love, so strives to inspire and encourage others to follow their dreams.
Kris Stanley, DCBC
C.O.O. (Chief Operations Officer)
Kris Stanley was born and raised in Clarenville, NL, and moved to Alberta 2001. He is a Red Seal Journeyman Glazier and made his way to Calgary in 2006. He brought home two pitbull puppies, Duke and Mya, in 2010 and found his way to Dogma. Duke and Mya became regular students at Dogma and Kris's interest in dog training developed from there.
He graduated from our DCBC program in 2011 and became an active assistant in Dogma's classes. His favourite part of working with dogs is helping fearful/reactive dogs overcome their fears and become his best buds. Kris's passion for dogs flourished over the years and him and Megan connected on a more personal level and were married in 2016.
Since then, Kris has become more invovled in the business and has shifted his focus from his glass business to taking on the role of C.O.O. in 2019. He manages multiple areas of the business and is a favourite to many of our four-legged friends.
Shelley Cherniawsky, DCBC, CPDT-KA
Director of Behaviour & Education
Similar to many trainers in the dog industry, Shelley found Dogma when she found herself with a dog of her own presenting challenging behaviors she was unsure of how to address. At the time, Shelley owned and operated a successful business as a certified Equine Therapist practicing holistic treatments along with working with disabled youth through respite work. When a 6 week old puppy, Gus, injected himself into Shelley's life through a client at the time her professional life changed directions. This is when Shelley found Dogma.
Shelley has been with Dogma since 2012 beginning with successfully completing her DCBC (Dogma Certified Behavior Consultant) and moving on to earning her CPDT-KA and Fear Free (Trainer) certificates. Education has always been a strong driving force in her career and she continues to stay up to date in the industry through multiple continuing educations courses each year.
You will see Shelley both in person at facilities as well as virtually through a variety of services at Dogma. When the Dogma Academy moved online, Shelley was thrilled to jump on board focusing time "training the trainers" working primarily with DDT students.
Shelley currently shares her home with her two dogs, Gus and Ferro, husband, Nick, and two daughters, Hannah and Isabelle. Even though Gus was not what many would traditionally call a dream dog, he is Shelley's soul dog that continues to inspire her work with fear and reactivity cases to unlock every dog's full potential. Gus being on the more extroverted side, it seemed fitting that Ferro found Shelley as a shy, under confident dog when Gus was 6 months old. Learning firsthand the challenges, and subsequently the joys, of living with fear and reactivity behaviors with a family dog has been the driving force behind Shelley's passion in dog training.
Adria Lem, DCBC, CPDT-KA
Location Manager, Killarney
Adria has been working with Dogma since 2015. As an animal lover she always wanted to work with animals. This love brought her all the way to University where she studied Zoology. However, during a summer dog daycare job is where she found her passion in working with dogs full-time. When Adria joined Dogma she was able to achieve her goal of becoming a dog trainer, earning her DCBC, CPDT-KA and her Fear Free Certification.
Adria lives with her husband and their two pups Ponyo and Arrietty.
Elizabeth Bilous, DDT, CPDT-KA
Head of Behaviour & Education, Killarney
Elizabeth has always had a passion for animals and focused on the study of animal and human relationships in University.
Elizabeth shares her home with her partner Juan and her two rescue dogs Zeus, an Australian Cattle dog and Thistle, a Border Collie.
When Elizabeth isn't at Dogma you can find her anywhere that involves camping, hiking and the outdoors!
Krissy Chutskoff
Office Administrator
Originally from Saskatchewan, then Manitoba, Krissy is a Prairie girl at heart (Go Riders!) who has now called Calgary home since 2005. She has been working in office management and administration for over 15 years. Although she works behind-the-scenes at Dogma, she loves seeing daily updates from the Day School locations and is honoured to be a part of a company which prioritizes and sets the highest standard for dog care in the industry, all while doing good for the local community.
When not enjoying time at home with Flirt, their free roam pet bunny, Krissy and her husband, Chad, love spending time taking in the local theater, markets, and sporting and music events. She is also extremely grateful to have recently earned a "cancer survivor badge" and now focuses on supporting and advocating for and alongside fellow Young Adult cancer patients.
Lydia Reid, DDT
LEAD, Chinook
Lydia earned her DDT (Dogma Dog Trainer) designation in 2022 and is thrilled to now be a professional dog trainer. She has always been compassionate about animal welfare so the opportunity to work under the guidance that Dogma provides and with dogs is the ideal career path for her. Lydia currently has her own pup at home, Frankie, who is her companion and the perfect student for her training. When she isn't spending time with all her doggy friends, you can find Lydia in her craft room creating. She is always excited about meeting new dogs and is looking forward to meeting yours!
Megan Coleman, DDT
Day School Trainer, Chinook
Megan has been with Dogma since 2009 and has loved every moment of it! She lives with her 2 dogs Kipper her 9 year old Border Collie Mix and Maisie her 2 year old Mixed breed. She started out dog sitting and walking for friends and wanted to persue a career in helping to better dogs! She is living the dream job and earned her DDT in 2022!
Candace McManus-Goodwin, DDT
Day School Trainer, Chinook
Taylor MacDougall, DDT
Day School Trainer, Killarney
Day School Attendant (DDT's in training) Team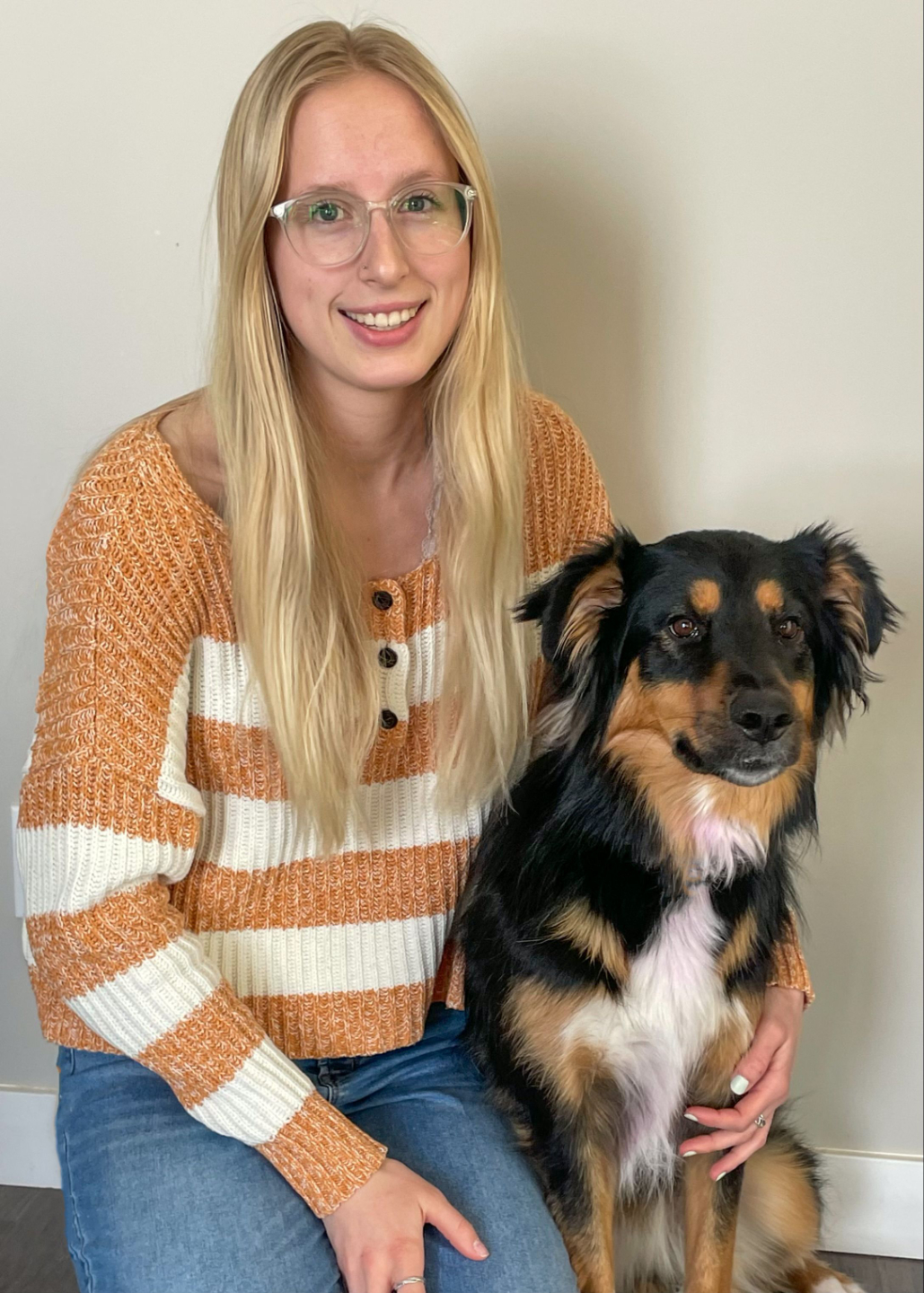 Jae Bec, DCP
Day School Attendant, Chinook
Jae has always had a passion for animals and training her own dog, Griffin! Jae first started her animal career taking her Animal Health Technology Diploma and worked in a few vet clinics. After finding out more about her passion for animals, she knew dog training was where her heart was set.
Jae enjoys building a relationship with each dog she works with, and loves watching them all grow! She is eager to learn more and grow in the dog training industry. When she is not training at facility, working on her education or training with her own dog, you can find her out exploring nature with her closest family and friends and her pup Griffin!
Lina Chaparro, DCP
Day School Attendant, Killarney
Lina was born in Colombia and moved to Canada with her partner and her adorable dog Merlin in 2019. Formerly a marketer and entrepreneur, she decided to make a career change inspired by her love for animals after volunteering to help homeless dogs for about two years.
Two years ago, she started working at a dog daycare in Winnipeg and realized she wanted to focus on dog training to better understand dog behaviour and help them to navigate our complex world. She has been living her dream job at Dogma since moving to Calgary in mid-2022.
When Lina is not working at Dogma or spending time learning about the dog training industry and dog behavior, you can find her hiking, exploring, and enjoying nature with her family (including her doggie Merlin) and friends.
Ella Enns, DCP
Day School Attendant, Killarney
Bio Coming Soon
Share Mickler, DCP
Day School Attendant, Killarney
Share is a kind-hearted, gentle, and patient individual. She has extraordinary passion towards holistic animal care, pushing for the highest standard of welfare and husbandry to all creatures. Share has achieved her Bachelors' degree in Animal Sciences: Wildlife and Fisheries from UNBC, where she got exceptional hands-on experience with some of the world most amazing creatures.
Share has local and international experience working with wildlife, and has cared for countless domestic and exotic companion animals.
Before finding Dogma, Share worked as a Fear-Free Certified Groomer to domestic and exotic pets of all varieties, providing emphasis on cooperative care and individualized grooming practices. She is the proud rescue momma to a husky mix named Skunk, who's rough start in life (and the behavioural challenges that followed) inspired her to pursue a career in companion dog training. She also shares her home with high school sweet heart, Evan, and their rescued leopard gecko, Cora.
Share's love of animals started with dogs, and she considers them to be among her most valued teachers. Share's enthusiasm for learning and lifelong passion towards animals has her well on her way to earning her certification and spreading the Dogma Difference.
Larissa Verhoog, DCP
Day School Attendant, Chinook
Larissa has lived in Calgary her whole life and worked as a chef for 5 years but wanted a career working with animals. She started out working at a dog day care where she found her passion and wanted to focus on dog training to better understand dog behaviour. The guidance and knowledge that Dogma provides is her ideal career path and cannot wait to continue her career with Dogma.

When she isn't at Dogma you can find Larissa trying all the new restaurants, going fishing with her fiancée Jordan and bird watching on her balcony with her 2 cats Milo, Otis and soon to be dog!